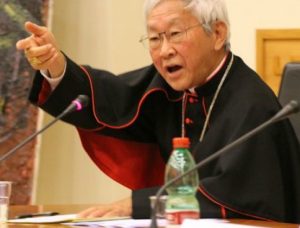 In its relentless quest to become the world hegemon, China is making full use of the 'soft power' strategy. This strategy includes seeking legitimacy in the eyes of world public opinion. Therefore the Party must recruit friends and gain influence abroad. So China's leaders spare no effort or money to woo foreign governments, business, media, universities, and other institutions.
The wooing even embraces the Vatican. Pope Francis, perhaps hoping to improve conditions for the Church in China, has agreed to recognise the Chinese Catholic Patriotic Association. This will involve a merger of the Patriotic Association – a communist controlled pseudo-Church – with the authentic Catholic Church in China. To show his commitment, the Pope asked underground Chinese bishops loyal to Rome to stand aside and hand their flocks over to Communist Party-approved bishops of the Patriotic Association.
Pope Francis thereby caused dismay amongst Chinese Catholics and sent shockwaves through the worldwide Catholic Church.
Cardinal Joseph Zen Ze-kiun is a courageous figure not dazzled by the money or charm of Beijing. He is emeritus Bishop of Hong Kong and he knows a thing or two about Chinese Communism, having lived under it. In late 2017, Cardinal Zen went to Rome to dissuade Pope Francis from making a deal with Beijing. The Pope did not listen.
The best Rome will get by recognizing the schismatic Patriotic Association is is a pretence of freedom of religion. China's leaders leave no doubt about this. Wang Zuoan, director of the State Administration for Religious Affairs, wrote in Communist Party journal Qiushi, "Religion in China has to follow the principle of Sinification under the guidance of the Party."
For the underground Chinese Catholics, the situation is all the more poignant since, paradoxically, they resisted a deal between the Vatican and Beijing, seeing it as betrayal of the Pope, only to find the deal approved by the very Pope they refused to betray.
In a "Painful Appeal" posted on his blog in August 2016, Cardinal Zen wrote:
"I remember someone posted not long ago on a Catholic website in China these words: 'After so many years, our enemies have not been able to make us die. Now we must die at the hand of our Father. All right then, let's die!'"
"Isn't this the most touching expression of a deep faith? Can God be unmoved by such faith and not give the world another chance on account of that faith? The situation is not all that different in other communist countries like North Korea, Laos, Vietnam and Cuba, where Catholics are also giving a similar testimony of their Faith."
"After so many years, our enemies have not been able to make us die. Now we must die at the hand of our Father. All right then, let's die!"
Posted on a Catholic blog site in China
Related Posts